Divers Lodge Lembeh is very proud that since 2002 we can make your diver's dream come true. We celebrate our 20th Anniversary by lowering the rates for any reservation made after 21 October 2022.
Our lodge is situated at 1h15 travel time from Manado Airport,  on the most beautiful part of Lembeh Island, between the Lembeh Strait and Sulawesi Sea, surrounded by protected forest. Each and every bungalow and the restaurant offer a great view at the sea, forest and mountains. Our experienced guides are happy to show you the most amazing critters, and our 2 on 1 dive guide ratio guarantees you can take all the time you want. Our custom-built boats are spacious and have everything you need – towels, emergency oxygen, tea, coffee, snacks, and more.
2 DIVERS, 1 GUIDE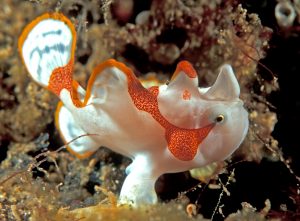 Our experienced, English speaking dive guides will give you all the time you want, to discover and enjoy the famous "Critter Capitol of the World" at your own pace. They are happy to show you everything on your wish-list: mimic octopus, hairy frog fish, pygmy seahorses, specific nudibranches, harlequin shrimps, ghost pipe-fish, boxer crabs, flamboyant cuttlefish or others? They will find them if they are around. Every guide has made at least 400 dives in Lembeh Strait. From October – April we also offer amazing coral and wall dives at the East side of Lembeh Island. These dive sites are comparable to Bangka Island.
PRIVATE BOAT, ALWAYS
How to get the best out of your dive holiday? The services which Divers Lodge Lembeh offers guarantees you the best under water experience. All custom made for you. Whether you come alone, with your spouse, buddy or group of friends, you will have your own private boat, you and your companion(s) can make your own schedule, decide when and where to dive and without time limits (as long it is within the safety standards of no decompression diving). If you meet here new friends with whom you want to share the boat and costs, this is of course no problem at all, and we will adjust the schedule accordingly. Price EUR 74 or USD77, – per boat, per day of diving (including night dives).
(Om onze service te optimaliseren en te doen waar we goed in zijn, garanderen we al onze gasten, die alleen of met anderen komen, een privéboot. Gasten kunnen er ook voor kiezen om tijdens hun verblijf hier de boot te delen met andere gasten en de kosten te delen. De prijs voor deze unieke service is IDR 1.200.000 (EUR 74,-) per dag, per boot. Deze prijs moet worden betaald bovenop het aantal duiken dat je hebt gemaakt. De tarieven voor onze duiken zijn lager dan je ergens anders zult vinden.)
We do not teach courses.
You will be surprised.  Even if you stay alone in one of our very spacious bungalows with air conditioning, full board, and you make 3 dives (Nitrox up to 35%) daily from own private boat and with your private guide, At Divers Lodge you would only pay IDR 4.485.000 (about EUR 275, – or USD 289, -) per night, all inclusive.
Of course the costs are much lower when you come and/or share with others. Example, for 6 persons sharing 3 bungalows (full board) and one boat, and who make 3 dives with Nitrox, the price will be only IDR 2.710.000 ( EUR 166, – or USD 176, -) per day, per person.
Please have a look at https://www.diverslodgelembeh.com/prices/ for all our rates. Updated 21 Dec. 2022.
SAFE AND SOUND
Our boats are designed by divers and built for diving. They guarantee you comfortable, fast and safe trips to all dive sites within the Strait of Lembeh, and from October – May also to the Oceanside of Lembeh Island. We never take more than 6 divers/snorkelers on our most spacious boats and less on our other boats. We do not have a maximum dive time limit. As long it is safe and there are no decompression stops needed. Divers have to be at least 15 years old and have a certificate of an international recognized organization. We do not offer courses at Divers Lodge Lembeh.
Although we started diving in Lembeh Strait back in 2002, we still find new exciting sites. In the last 2 years we even discovered several top dive sites in the direct vicinity of the resort. Our "Mandarin House Reef" is one of the "must visit" places of the Strait. Self – guided dives with supervision from our beach cost only IDR 150.000, – per dive (limited to 08.00 – 17.00).
LAND TRIPS IN PARADISE
We don't just offer excellent diving at Divers Lodge Lembeh. If you stay with us, you will enjoy the most beautiful part of Lembeh Island. The resort is a true butterfly paradise and over the years more and more birds made it their home. Divers Lodge Lembeh is surrounded by 25 hectares of tropical nature reserve. Tarsier Spectrum (very small primates), Civets and Monitor lizards are permanent residents here. We are also experts in organizing day trips to the most beautiful parts of North Sulawesi, including Tangkoko National Park and the Minahassa Highlands.
NATURE, BEAUTY, PRIVACY  & COMFORT
The bungalows at Divers Lodge Lembeh – spaced well apart, with plenty of privacy, and each with their own private balcony – allows for spectacular sea views on both Lembeh Strait and Walenekoko Bay.  Neat and spacious rooms with western style bathroom, excellent beds, hot shower and free laundry service guarantee you a comfortable stay.  Detailed descriptions of the bungalows can be found here.
The kitchen of Divers Lodge Lembeh is keeping up her reputation of freshly prepared, tasty and healthy meals. The Indonesian dishes really taste Indonesian, without being too spicy. Instead of the traditional frying of the vegetables we also serve them steamed.  There is extra home-made sambal for the guests who like it "very hot".  Pastas, potatoes and home-made bread  are served to offer an alternative for rice and noodles.  We do not use MSG and palm oil in our kitchen and all food is Halal.  Of course we also cater for vegetarians and guests with other special dietary requirements.  Smoking is not allowed in the restaurant and the lounge but one can smoke at the attached open air terrace. Have a look at our cuisine page to get a taste of our dishes.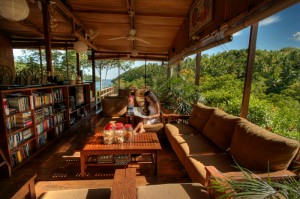 Free wireless internet is available (24h) at the restaurant, lounge and open deck area. You also will find a collection books and identification guides here. A high quality OLED screen can be used to watch movies.
BOOKING
Booking your holidays with Divers Lodge Lembeh is easier than your daily shopping! No deposit, No cancellation fee. Pay when you Check Out.
Please have a look at https://www.diverslodgelembeh.com/prices/
Credit cards are not an option to pay at the moment. You can pay cash in Indonesian Rupiah, USD or EUR or by internet banking (by WISE, our account in the Netherlands or Indonesia). Or opt for a 10% discount by paying, all of a part, in advance (only for payments made at least 90 days before arrival). Just send an email to info@diverslodgelembeh.com.  If you plan to use the WISE app, we suggest you set up your account before arriving in Indonesia.
Apart from a few high quality travel agencies, we do not cooperate with any online-booking agency.  This is one reason why our rates our lower than at the other places. Please let us know if you prefer to make your reservation through an agency and we will advise you accordingly.
CONTACT DETAILS
Email: info@diverslodgelembeh.com
Phone: +62 8124433754 (Rob & Linda – English, Nederlands, Deutsch, Bahasa Indonesia)
Sampai jumpa (see you soon)!
Below is a short movie made by Marcelo Johan Ogata during his time at Divers Lodge Lembeh. We thank him for this footage! Enjoy.
If you stay with us, you directly contribute to our education and conservation projects.
Watch some of the shows made for Indonesian television by Rob and Linda and their team! Subscribe to YouTube channel Rob Sinke
Updated 09 September 2022